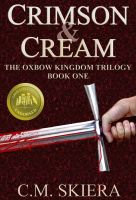 Hounded by watchmen, trolls, goblins, and a relentless bounty hunter, 13-year-old Jetsam dreams of the day he'll no longer have to run for his life.

In the mountain city of Dwim-Halloe, Eadriel and Elvar were born twins to teachers at the city's revered School of Magic. When the new king outlawed magic, the boys' parents were murdered. Their deaths forfeited the twins' magical birthright and made them homeless fugitives.

Rescued by an orphan gang, the fleeing twins were nicknamed Flotsam and Jetsam. To survive as outcasts, the orphans scavenge and pilfer nightly. Their last risky foray sent them fleeing into an unfamiliar cavern. Now the boys are lost deep underground where they encounter a strange beast that will change their lives forever and begin a harrowing journey for their ultimate survival.

Crimson & Cream recounts Jetsam's adventurous tale of flight and discovery as the fugitive orphan unravels his tortured past while securing his tenuous future.
It's Friday! In celebration, I am decorating a debut author in holiday lights, silly-bands, and well-placed danish pastries... Okay, as much as some of you would secretly enjoy that, this author actually needs no fluff to catch a reader's attention.
C.M. Skiera is here today to talk about his novel, CRIMSON & CREAM, and answer some absurdly fun questions.
Please introduce yourself C.M.
I'm a middle-aged man from Michigan who now lives in California with his wife and two rescue dogs. I work as a professional environmental engineer to pay the bills. I've been writing as a hobby since the mid 1990s.
I started writing Crimson & Cream in 1999, and after lots of twists and turns, 13 drafts, plenty of rejections, the arrival of the 21st Century and the advent of online self-publishing, it's finally here. Whew!
CRIMSON & CREAM is an epic fantasy. Why and how did you begin writing this manuscript?
I've always been a big fan of epic, speculative storytelling, and I especially love Lord of the Rings, Game of Thrones, and Star Wars (of course). I always wanted to craft an epic story like that, and when the kernels of CRIMSON & CREAM came to me, I decided to run with the idea. I'm sure the influences of all three are evident in CRIMSON & CREAM.
I spent just over seven years writing and revising one of my books. In the beginning, I was in such a rush to make it shiny and call it finished. Oh, how wrong I was. The horror! Slowly, however, I've learned to take my time. Craig, you started writing CRIMSON & CREAM in 1999. How does it feel to finally throw it to the wolves? (Oops, I meant loving readers.) Do you feel like it's finally finished, or is your writer half still mentally making changes?
Scary! Very scary, but it's also a relief. I feel like the book is finished--the story and plot line will not change. That being said, I'd always consider polishing and tweaking the book based on reviews and reader feedback.After reading it from front to back more than a dozen times, I feel like I've lost my objectivity.
H
aving dedicated so much time to one manuscript, do you feel like CRIMSON & CREAM ever suffered at the hands of your evolution as a writer or did you have previous writing experience/knowledge as guidance?
I'm sure it definitely suffered! Going back and looking at the first draft, there is a big difference. However, I did finish a novel prior to Crimson & Cream (yet unpublished and a different genre), so I already had an idea of the process, but I was (and still am) very raw.
Is there a juicy tidbit or funny anecdote you can share about CRIMSON & CREAM?
I developed the core of the story on a long solo drive from Lansing to Chicago (mainly to entertain myself). My sister was supposed to make the trip with me, but she had gotten sick. If she had been feeling well that day, I'm not sure I would have come up with the story.
Please
describe CRIMSON & CREAM in 50 words, 10 words, and 1 word.
50 Words
: Crimson & Cream is the story of 13-year old Jetsam, who finds himself a victim of circumstance, his life growing more difficult each day. A series of life-changing events force him to boldly decide his future, while trying to sort out the tangled mysteries of his troubled past.
10 words
: Unlucky orphan runs for his life while chasing his dream.
If you could change the flavor of popcorn to anything in this world or beyond, what would it taste like and why?
Probably bacon. Non-fat bacon, yum. It wouldn't even need butter! I would eat it every day.
I love Inside the Actors Studio. Please answer James Lipton's 'Final Ten' questions:
What is your favorite word?
That's a tough one. I certainly don't have a predetermined favorite. I'll say Pantomime. I like the way it sounds.
What is your least favorite word?
Honest passion and enthusiasm.
Strong-arm, soap-box pontificating on politics and/or religion.
What sound or noise do you love?
The sound of waves reaching the beach.
What sound or noise do you hate?
Car alarms--the least-effective popular invention ever.
What is your favorite curse word?
The F-bomb. A timeless classic.
What profession other than your own would you like to attempt?
What profession would you not like to do?
If heaven exists, what would you like to hear God say when you arrive at the pearly gates?
"There are no car alarms here. Relax, and have some bacon popcorn!"
Thank you so much C.M! I've really enjoyed this interview.
For more C.M. Skiera or his novel, CRIMSON & CREAM, follow the links below: